Salads are an excellent choice for a wholesome and satisfying dinner. Packed with a variety of fresh ingredients, they offer a burst of flavors and nutrients that can leave you feeling nourished and energized. In this article, we'll walk you through the step-by-step process of creating three delightful dinner salad recipes that are easy to make, customizable, and perfect for any occasion.
Recipe 1: Grilled Chicken Caesar Salad
Ingredients:
2 boneless, skinless chicken breasts
Romaine lettuce, washed and chopped
1 cup cherry tomatoes, halved
1/2 cup croutons
1/4 cup grated Parmesan cheese
For the dressing:
1/4 cup mayonnaise
2 tablespoons plain Greek yogurt
2 cloves garlic, minced
2 tablespoons lemon juice
1 teaspoon Dijon mustard
Salt and pepper to taste
Instructions:
Preheat your grill or grill pan to medium-high heat.
Season the chicken breasts with salt, pepper, and a drizzle of olive oil. Grill for about 6-7 minutes per side or until cooked through.
While the chicken is grilling, prepare the dressing. In a bowl, whisk together the mayonnaise, Greek yogurt, minced garlic, lemon juice, Dijon mustard, salt, and pepper.
Once the chicken is cooked, let it rest for a few minutes before slicing it into thin strips.
In a large bowl, combine the chopped romaine lettuce, cherry tomatoes, and croutons.
Add the sliced grilled chicken on top of the salad.
Drizzle the dressing over the salad and toss everything together to coat the ingredients evenly.
Sprinkle the grated Parmesan cheese on top and serve immediately.
Recipe 2: Mediterranean Quinoa Salad
Ingredients:
1 cup cooked quinoa, cooled
1 cup cucumber, diced
1 cup bell peppers (red, yellow, or orange), diced
1/2 cup red onion, finely chopped
1/2 cup Kalamata olives, pitted and sliced
1/2 cup crumbled feta cheese
1/4 cup fresh parsley, chopped
For the dressing:
1/4 cup extra-virgin olive oil
2 tablespoons lemon juice
1 teaspoon dried oregano
Salt and pepper to taste
Instructions:
In a large bowl, combine the cooked quinoa, diced cucumber, diced bell peppers, chopped red onion, sliced Kalamata olives, crumbled feta cheese, and fresh parsley.
In a separate bowl, whisk together the olive oil, lemon juice, dried oregano, salt, and pepper to create the dressing.
Pour the dressing over the quinoa mixture and toss gently to combine.
Allow the flavors to meld for about 15-20 minutes before serving, or refrigerate for later use.
Recipe 3: Asian Sesame Tofu Salad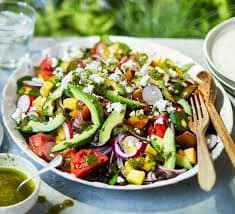 Ingredients:
1 block extra-firm tofu, pressed and cubed
4 cups mixed greens (spinach, lettuce, arugula, etc.)
1 cup shredded carrots
1 red bell pepper, julienned
1/2 cup edamame beans, cooked and shelled
1/4 cup sliced almonds
For the dressing:
3 tablespoons soy sauce
2 tablespoons rice vinegar
1 tablespoon sesame oil
1 tablespoon honey or maple syrup
1 teaspoon grated fresh ginger
1 clove garlic, minced
Instructions:
In a non-stick pan, heat a bit of oil over medium heat. Add the cubed tofu and cook until golden brown on all sides. Remove from heat and set aside.
In a large bowl, combine the mixed greens, shredded carrots, julienned red bell pepper, edamame beans, and sliced almonds.
Whisk together the soy sauce, rice vinegar, sesame oil, honey or maple syrup, grated ginger, and minced garlic to make the dressing.
Add the cooked tofu to the salad and drizzle the dressing over the top.
Toss everything gently to coat the ingredients with the dressing.
Serve immediately, and enjoy the fusion of flavors and textures.
Conclusion:
Dinner salads can be a delicious and wholesome choice for your evening meal. With these step-by-step recipes, you can easily create a Grilled Chicken Caesar Salad, a Mediterranean Quinoa Salad, or an Asian Sesame Tofu Salad. These salads not only offer a delightful culinary experience but also provide a healthy dose of nutrients and satisfaction. Feel free to experiment with ingredients and dressings to create your own unique dinner salad creations that cater to your taste buds and nutritional preferences.